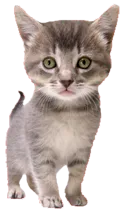 When should we see your cat?
Kittens should be seen for a series of examinations and appropriate vaccinations. We should test for feline leukemia and check fecal samples for internal parasites. It is very important to get your kitten started out right when it comes to nutrition, so we will make recommendations about what to feed your growing kitten. We will discuss spaying and neutering. If your kitten's claws are a concern, we can discuss declawing, as well as non-surgical methods of preventing problems.
Adult cats need to be seen on a yearly basis. Too often, indoor cats are not given regular veterinary care and issues such as obesity, dental disease, urinary tract issues and other preventable health problems are not addressed until it is too late! Cats who go outdoors need to vaccinated against feline leukemia and screened for internal parasites. If your cat appears to be healthy, schedule a regular yearly exam to keep it that way!
Senior cats have very important health care needs. Older cats should be examined and screened for kidney disease, hyperthyroidism, diabetes, arthritis and nutritional needs on at least a yearly basis. We can prevent the progression of disease processes if we identify them early. Keeping your cat comfortable and happy for as long as possible is our goal.
Any cat showing signs of illness, such as changes in eating and drinking, decreased activity level, upset stomach, or abnormal behavior should be seen by the veterinarian. Because cats hide illness, signs of a serious problem may be very subtle.
Many people and cats feel that the trip to the veterinarian is too stressful. WE CAN HELP! Reducing the stress of a vet visit starts at home. Once at the clinic, we will do everything possible to minimize your cat's anxiety so he or she stays calm and comfortable. There are no bad cats, only scared cats. Please call for advice regarding transporting your cat to the clinic and be sure to check out the valuable information at: www.catalystcouncil.org/resources/health_welfare/cat_carrier_video/